MYOB AccountRight vs MYOB Advanced: Key differences explained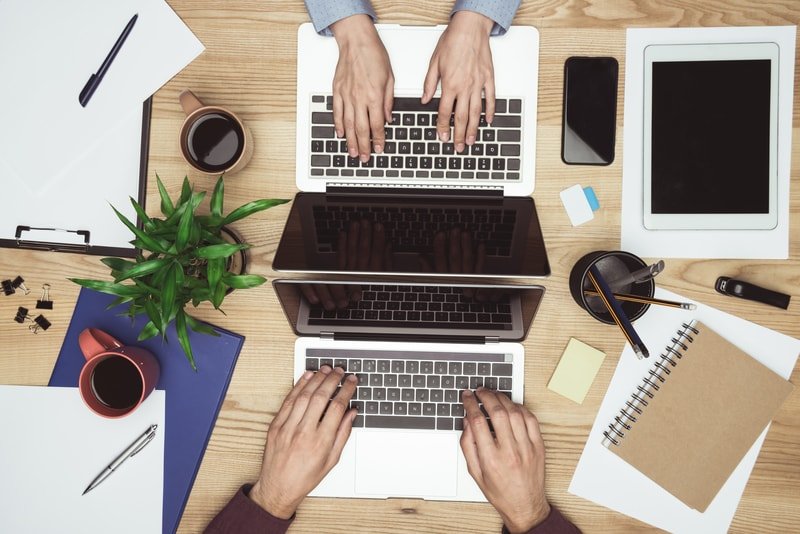 This blog describes the key differences between MYOB AccountRight and MYOB Advanced, and the potential benefits of each for your business.
MYOB rose to prominence because of its accounting software, but the company continues to innovate and offers a range of tools designed to make business easier for enterprises of all sizes.
MYOB AccountRight and MYOB Advanced are two popular solutions in the company's impressive software portfolio. What's the difference between MYOB AccountRight and MYOB Advanced? The main difference is the type and size of business each product aims to help.
Both are quality, highly secure SaaS solutions that make it easier for you to work anywhere and anytime in the cloud. Both are backed by an Australian software leader you can trust, with superb customer support.
Small to medium businesses looking for a cloud accounting solution are likely to find the functionality available in MYOB AccountRight is a great match with their needs. On the other hand, MYOB Advanced is a comprehensive and fully featured Enterprise Resource Planning (ERP) solution made for mid-sized to larger businesses.
Let's explore each solution in more detail.
MYOB AccountRight: a valuable tool for small to medium businesses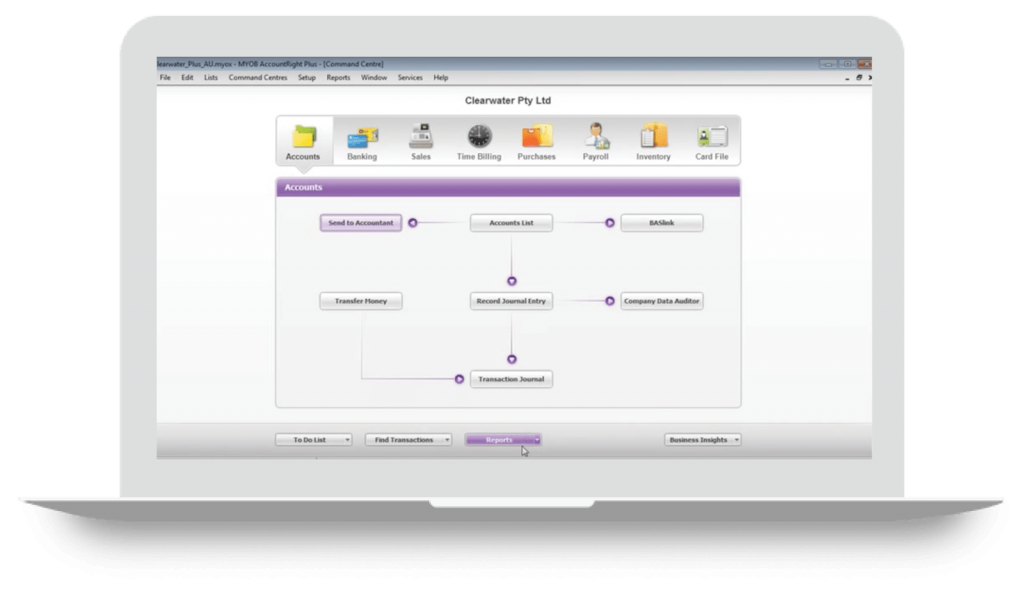 MYOB AccountRight increases the speed and accuracy of daily accounting tasks and ensures you have excellent record-keeping and compliance. With MYOB AccountRight you can more easily satisfy your taxation, super and payroll obligations with confidence.
The solution covers functionality that small to medium businesses need to manage:
Tax:

Including instant GST, PAYG and BAS reports.

Employees:

With Single Touch Payroll (STP), state payroll tax, superannuation and leave, even if you work from timesheets.

Finances:

Including General Ledger (GL), accounts receivable and payable, analytics, and automated bank statement imports.  

Sales, quotes and purchase orders:

Including online payment and credit notes.

Inventory:

Track all your stock, manage purchasing, see stock that's already committed.

Projects:

With basic project management including P&L reporting by individual jobs.
What does MYOB AccountRight offer that MYOB Advanced doesn't?
MYOB AccountRight is ideal for SMBs that want to step-up from basic invoicing software or reliance on spreadsheets. Your subscription cost per month will be less than if you were using MYOB Advanced.
There are some attributes specific to MYOB AccountRight that are appealing for small businesses:
Cash-based accounting

The ability to trial the solution for free for 30 days

The capacity to work with your company file online, offline or both.
When is MYOB AccountRight a good choice?
A significant research project conducted by the ATO in 2017 involving hundreds of Australian small business owners and their tax agents revealed that most tax agents recommend a particular software to their small business clients. And in most cases the software they recommend is MYOB.
If you're new to embracing digital tools, MYOB AccountRight is a great entry-level accounting solution. MYOB AccountRight will help you to spend less time doing paperwork, so you can spend more time growing your business.
MYOB Advanced: A powerful ERP for mid-market businesses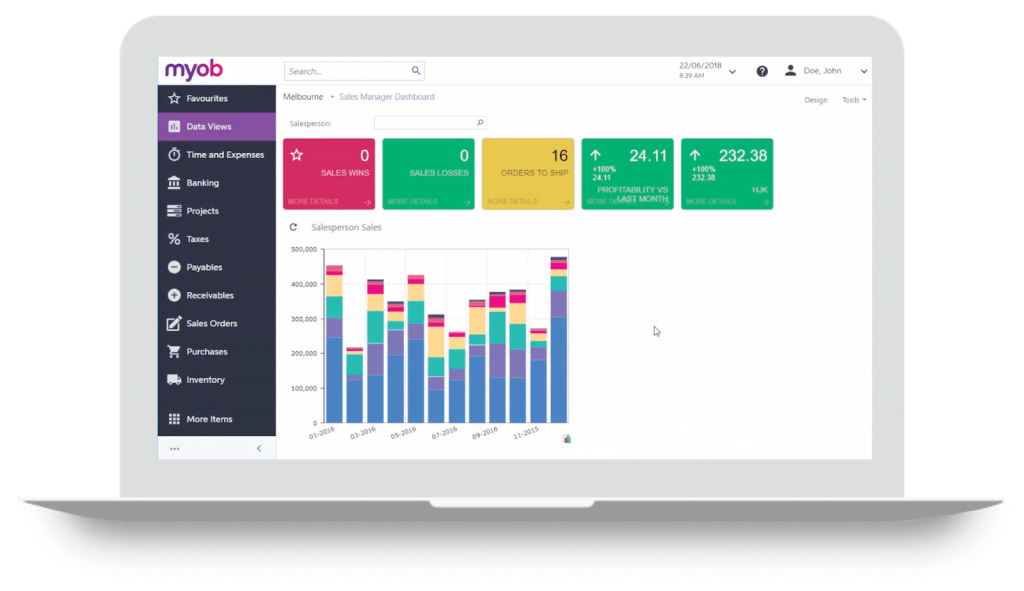 MYOB Advanced has a greater depth and breadth of functionality than AccountRight. That's because MYOB Advanced is designed for mid-market and larger businesses with growing complexity in the way they structure their business, their accounts, and their operations.
By unifying data and team collaboration across your whole business, MYOB Advanced enables more holistic business management, high-level consolidation and in-depth insights for strategic planning.  
The solution includes all the bells and whistles that an expanding mid-sized business might want, including:
Accounting, payroll, and financial management:

As well as General Ledger, payroll and tax management reporting, you can manage inter-company transactions, budgeting and financial analysis, branch accounting and consolidation, and handle finances across multiple ABNs, locations, and currencies.

Customer management:

Securely store and proactively leverage customer data using built-in analytics and reporting tools.

Hone your customer relationship management, close more sales and manage marketing and bulk email campaigns.

Distribution and manufacturing:

Manage production workflows and get full visibility of inventory at every stage, from receipting to fulfilment so you can maximise turnover and ensure you always deliver on time and in full.

Project accounting:

Strong job costing and tracking of individual projects so you can manage expenses and income, complete purchasing by job, track time to complete tasks, understand profitability and report on projects.
Analytics, BI and reporting are a core part of the solution. Importantly, because MYOB Advanced is an ERP solution, it is configured to your business' specific processes, workflows and reporting preferences. You can also customise dashboards and menus for individual users.
What does MYOB Advanced offer that MYOB AccountRight doesn't?
Unlike MYOB AccountRight, MYOB Advanced handles the financial management of multi-layered organisations. If your business has several entities or branches, multiple warehouses, or operates across different geographies and currencies, MYOB Advanced has the functionality you need. Inter-company consolidation and reporting enables businesses to get a high-level view of financial performance.  
The solution allows you to forecast cash flow and complete detailed financial analysis from customisable dashboards—which is not possible in AccountRight. MYOB AccountRight also doesn't include asset management, whereas MYOB Advanced integrates your asset register and helps you manage the depreciation and maintenance schedules for fixed assets.
When it comes to inventory management and purchasing, MYOB Advanced includes a wider range of functions than AccountRight, including (but not limited to):
Maintain different stock prices within different warehouses.

Advanced bar coding capabilities.

Traceability through batch, lot, serial and expiry date tracking.

Calculation of landed costs.

Purchase order approval and recommendations for re-ordering.

Track stock by multiple units of measure, or by style, colour, and size.

Manage stock by bin location and prioritise picking.
When is MYOB Advanced a good choice?
Once your business grows in size, scope and number of employees, it's likely that information is created and managed within different functional areas. That makes sense.
But as a business owner or manager, it makes it harder to get the high-level insight required to address issues, improve, adapt to market changes and set a direction for the future.
A flexible and scalable ERP solution like MYOB Advanced helps you manage your entire organisation from one dashboard, using one database. The way you manage customers, sales, your supply chain, and projects, are seamlessly linked and feed into financial management and reporting tools that enable you to get clarity on revenue, costs, and opportunities for growth.
A more complete picture requires a more powerful software solution. MYOB Advanced is leading the Australian ERP scene so it's an excellent choice if you're ready for an integrated system with truly advanced functionality.
If you think MYOB Advanced might be a good choice for your business—we can help. Contact us with your questions and to learn more.