Accounting Software vs ERP Software – What Is The Difference And How To Choose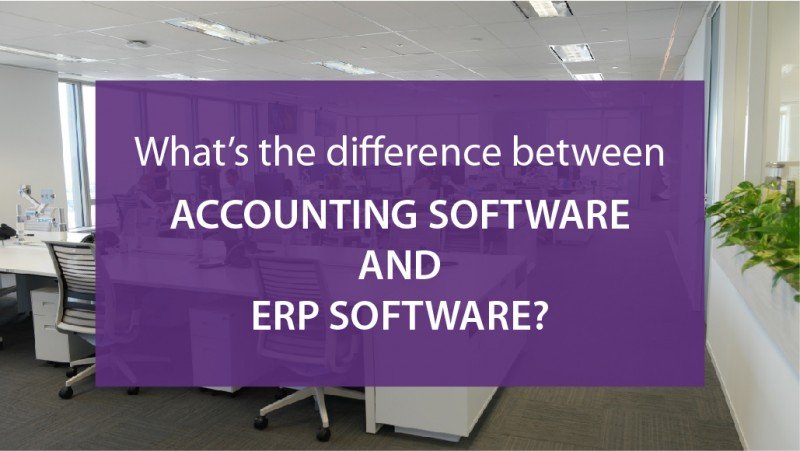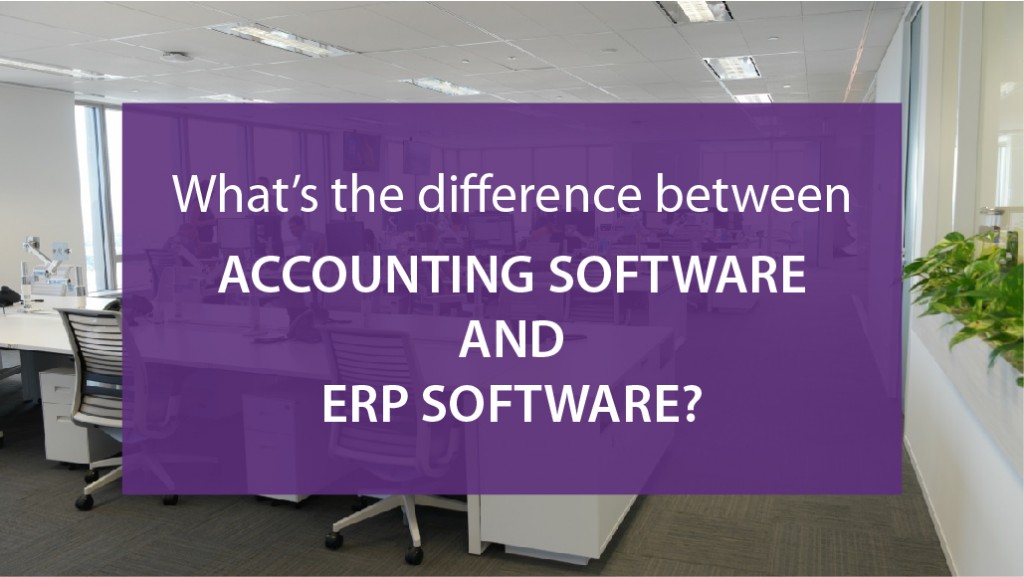 Even the smallest of small businesses adopt accounting software early in their life cycle.
Accounting software is simply the easiest way for a fledgling small business to manage financial tasks, and it offers a simple and easy way to keep track of:
payroll and time sheets
accounts receivable
accounts payable
trial balances
purchase orders
general ledgers
financial reporting
Over time, as a business grows and staff and departments expand, they may need to adopt individual software packages or develop ad hoc/homegrown processes to manage other facets of the business, like asset and project management, IT and human resources, even manufacturing and supply chains.
While adopting this kind of situational solutions is natural and often necessary, relying on several different systems, processes, and software packages eventually prove to be unsustainable. The human and IT costs of managing and cross-referencing these systems becomes too expensive, and relying on several different component parts and systems prevents inclusive reporting, analysis, and oversight.
At a certain stage in their growth, most business owners find that they need a more comprehensive solution in order to adequately meet current business challenges and plan intelligently for the future. That's where Enterprise Resource Planning software comes in.
For more information on finding the "Rightsize" software package for your Small and Medium Sized Business, check our Webinar Webinar "Rightsizing Your SMB Software"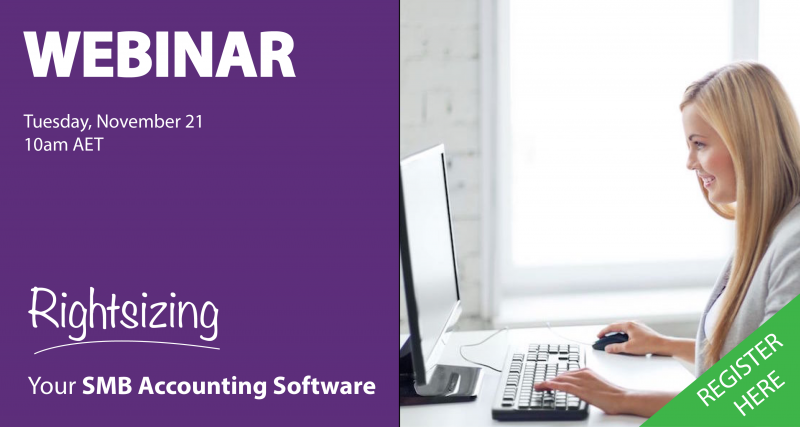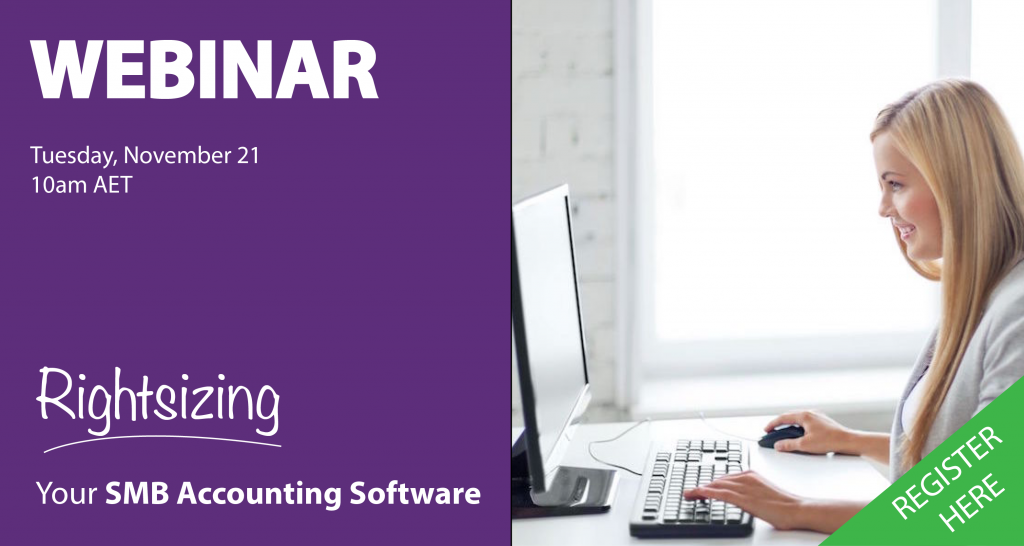 What is Enterprise Resource Planning (ERP) software?
ERP software is designed to track all of the assets and resources, tangible and intangible, within a business. It performs all of the accounting features listed above but offers an array of additional capabilities that accounting software doesn't, such as:
product planning
product development
manufacturing
sales
marketing
inventory control
distribution
human resources
ERP software is typically comprised of different modules so that business owners can adopt the specific tools that are applicable to them. ERP software is available with project management or CRM modules, for example, to help connect critical data points. Adopting an ERP software with the relevant modules allows an entire company to work with the same comprehensive suite of tools, using the same dataset.
This company-wide database created by ERP software allows company leadership the insight to conduct meaningful analysis, make accurate plans and reports, and adopt effective solutions that can be implemented throughout the business.
The following infographic gives you a high-level understanding of the differences between Accounting Software and Enterprise Resource Planning Software.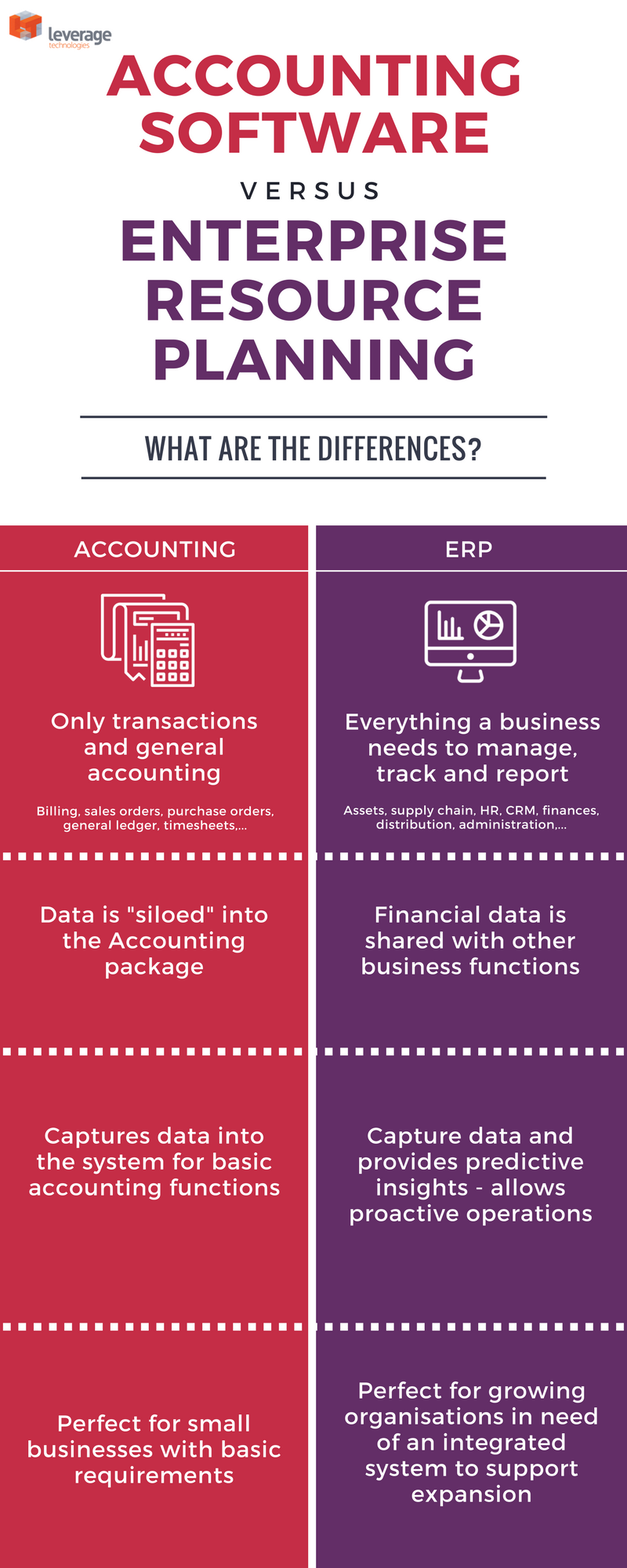 When is it time to upgrade to an ERP?
Simply put, it's time to transition from simple accounting software to a comprehensive ERP suite when the accounting software no longer has the range of capabilities that meet your needs. According to a 2016 study, most businesses adopt an ERP software for the following reasons:
To replace out-of-date ERP software (49%)
To replace other non-ERP systems / had no system (20%)
To replace homegrown systems (16%)
To replace accounting software (15%)
The truth is, even small businesses can benefit from adopting ERP software early in their life cycle. ERP software allows businesses to work efficiently, empower workers, and plan for intelligent growth. ERP software enables companies to:
Control their finances. With capabilities far beyond simple accounting software, ERP manages finances and cash flow, revenue and expenses, and cost accounting.
Digitize their reporting. Integrated management means that companies can gain insight and reporting on all processes, activities, and workflows. ERP software reduces paper-based transactions and reports, and provides integrated monitoring of business performance and objectives.
Lower their IT costs. By using a single, streamlined solution, the IT burden of managing or integrating multiple systems is eased. Upgrades are simpler, deployment is easier, and scaling isn't a problem.
It's never to early to plan for the future of your business, and an ERP solution may be the perfect tool to get you there. Contact us to learn more about the capability of these tools and how they can help your business run more intelligently, efficiently, and profitably, for years into the future.